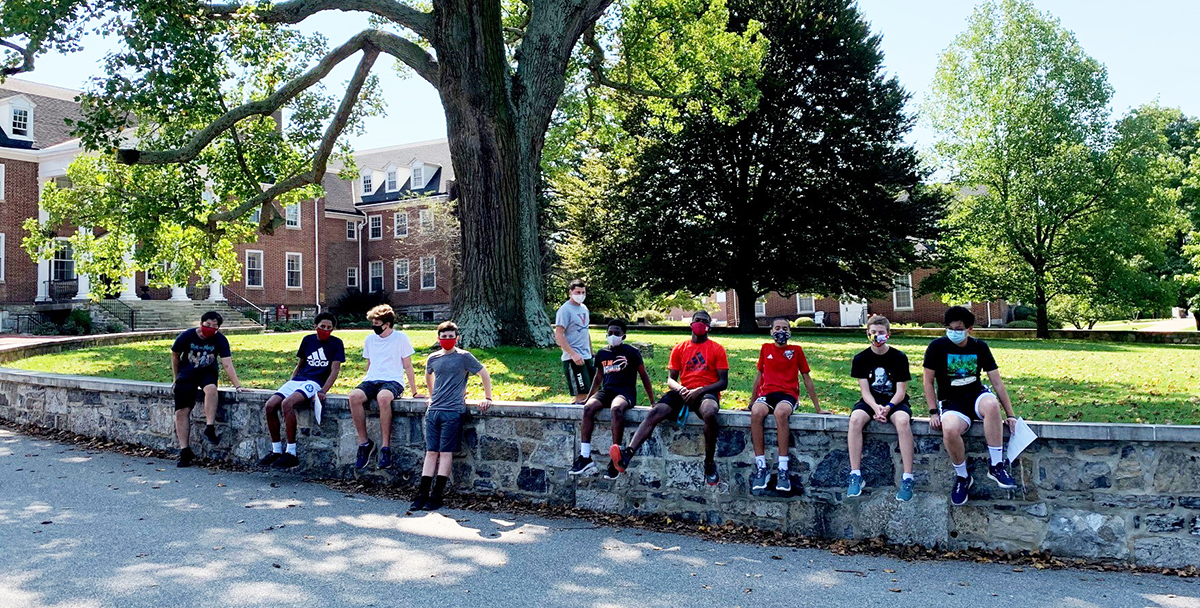 Greetings from the Dean's Office!
It has been such a joy getting to see students on campus again, but equally so to get to see our returning virtual students and meet our new virtual students in our classrooms this week, whether in person or online. Yesterday our students and faculty watched Senior Prefect Coco Zhang deliver a chapel talk on her first impression of the Honor Code at Saint James - "On my honor, I will not lie, cheat or steal and I will report anyone I witness doing any of the three." - and why it is so important to her, and our community. Afterwards our faculty and students signed the Honor Code virtually on Blackbaud. This is always a significant moment for our School as it sets a standard for our school year - both in and out of the classroom.
On an aside - families of virtual students, please be sure to notify Jennifer Martirano, School Registrar, if your child will be missing class for any reason. Her email is jmartirano@stjames.edu
There is a great deal of information below, so please be sure to continue reading.
Sincerely,
Steve Lachut
Dean of Students
Boarding Family Visits
Congratulations! Your children, our students, have done a great job respecting our community expectations regarding COVID protocols. Everyone has been patient and has followed best practices to be able to safely integrate with their dorm family, or cohort groups.
Saint James takes very seriously our responsibility to ensure the health and general well-being of our students. To support our students' mental health and well-being we will be opening campus to family visitation this weekend. Of course, we want you to see your kids, but we also want to take measures to help prevent the inadvertent exposure to COVID. All this said, we will open our campus to family visits this weekend.
Visitation hours are: 5 pm to 8 pm Friday, 10 am to 8 pm Saturday and 1 pm to 7 pm on Sunday.
In this initial opening, we are asking for families to visit their student on-campus, in an outdoor setting. Visitation will occur near the west gate between the gate and Turner Field. There you will see a white party tent with tables and chairs set-up. We ask that all families, regardless of which building your child lives in, plan to meet him or her there when you arrive to campus. Visitors to campus will be restricted to one family unit; please do not plan on coming to campus with aunts, uncles, friends, etc.
Please monitor yourself and your family prior to visiting. If anyone is ill or has been ill within 14 days, we ask the whole family to reschedule the visit.
While on campus, all visitors MUST always wear a 3-layer cloth or paper face mask, and to maintain 6' distance from your student.
You may take a walk with your student around campus, keeping 6' distance and using masks. Please avoid the interior of campus including Senior Circle, all dormitories and Kemp Hall.
Families will be able to use the restroom in Alumni Hall, but may not go inside other buildings including dorms, not even for a brief time.
You may bring homemade or take-out food to drop-off, but no eating will be permitted as it would require being unmasked.
If bringing food to share with other students, please only bring purchased, individually packaged packs (no home-made treats).
Please respect 6' spacing between your family and your own and other students, as well as faculty.
Visits should be reasonably limited in both time and frequency.
From the Assistant Headmaster
We are all so excited to have students back in our classrooms. We certainly have challenges with both in-person and online students attending a class, but everyone seems to be adjusting well and really enjoying the "live" experience over an asynchronous one. I remind parents who have students at home to check Blackbaud if you want to see assignments. Simply click the student's name in the upper left-hand corner of your Blackbaud homepage and then click on the appropriate tab.
We have begun preparations for our virtual Family Weekend (October 17). Like our usual schedule in a "normal" year, parents will have the opportunity to hear from teachers. We are also planning to take you on a virtual tour of campus, hear from our fine arts department, and give a visual presentation of what our students have been doing on campus since their arrival. Stay tuned for the complete schedule.
For our online learners, attendance is vital, as is timely submission of work. Students need to be present for class unless an arrangement has been made with the teacher. Good communication has taken place with those students who are in distant time zones, but students who reside domestically are expected to be live and online, camera on, and dressed for class. Repeated absences will result in a loss of credit for a course. If you are having continued issues connecting to a class, please be in touch with me immediately.
From College Counseling:
The College Financial Aid Presentation on Monday 28 September at 7pm is open to all parents in forms III-VI. It is led by Chad Spencer, Director of Financial Aid and Associate Director of Admission at Davidson College. Signup instructions will be emailed soon, but please mark your calendar for this important event.
From the Yearbook Staff:
Yearbooks will be distributed to students on campus on Sunday at the Kemp patio after chapel.
Students who are currently virtual learners will receive their books when they return to campus.
From Fine Arts:
After a very successful "Fall Play Q&A" on Teams yesterday, we are excited to announce that our fall play will be a It's A Wonderful Life: A Live Radio Play by Joe Landry. The performance will be streamed on November 20. Students will be auditioning by video submission this week with rehearsals beginning after that. Students can audition to be an actor, on the production/creative team, and editing team.