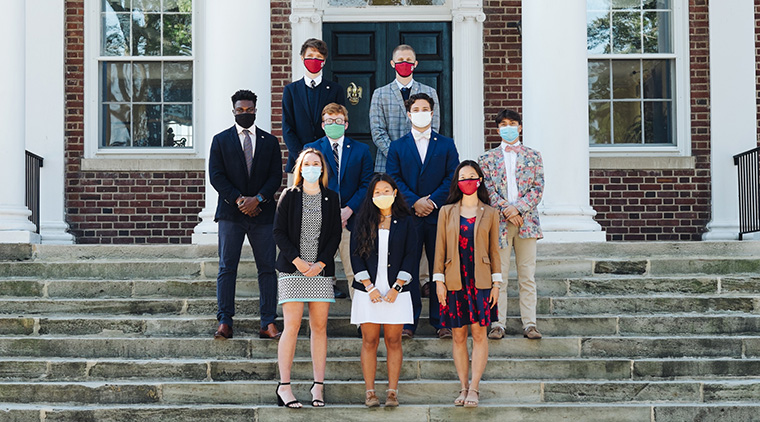 Greetings from the Dean's Office!
A few things I have learned since September 5th:
Eyes are more expressive than I ever realized.
Teenagers are able to overcome the obstacle of a mask to show their displeasure through body language - their huffs, puffs, and groans are still audible through a mask - much to their dismay.
Our students have a hard time comprehending what six feet actually is - whether we state it in feet, meters (metres), or even yards - but they are trying.
A container of hand sanitizer does not last as long as I would have hoped or thought.
Teenagers are remarkably resilient, and despite their best efforts to the contrary, are generally jovial in their disposition.
We are continuing with parent visitation this weekend but PLEASE be mindful and respectful of the guidelines that are reiterated below. Of particular concern was families stopping and visiting at Mattingly and Onderdonk. Please do not stop by your child's dormitory. This is to keep our community safe, respect those students who are particularly cautious about their interactions, and especially important to respect the students whose families are unable to visit. Eating was another area of concern - please feel free to bring food for your child, and their friends but our use of masks is keeping us safest from any potential exposure so when you and/or your child are unmasked it increases risk - not only to your child, but to our whole community.
Moving forward, we will analyze two key metrics to determine whether campus will be open for visitation on a given weekend. We will evaluate the average percent positivity as well as new cases per 100,000 people over a seven day window (Friday to Thursday). An announcement will be made no later than Friday morning about weekend visitation.
Virtual families: There will be school-wide virtual trivia next Friday evening. We would love for as many of our virtual students to participate as possible. I will be sending details to all the students early next week.
Sincerely,
Steve Lachut
Dean of Students
Boarding Family Visits
We will open our campus to family visits again this weekend.
Visitation hours are: 5 pm to 8 pm Friday, 10 am to 8 pm Saturday and 1 pm to 7 pm on Sunday.
In this initial opening, we are asking for families to visit their student on-campus, in an outdoor setting. Visitation will occur near the west gate between the gate and Turner Field. There you will see a white party tent with tables and chairs set-up. We ask that all families, regardless of which building your child lives in, plan to meet him or her there when you arrive to campus. Visitors to campus will be restricted to one family unit; please do not plan on coming to campus with aunts, uncles, friends, etc.
Please monitor yourself and your family prior to visiting. If anyone is ill or has been ill within 14 days, we ask the whole family to reschedule the visit.
While on campus, all visitors MUST always wear a 3-layer cloth or paper face mask, and to maintain 6' distance from your student.
You may take a walk with your student around campus, keeping 6' distance and using masks. Please avoid the interior of campus including Senior Circle, all dormitories and Kemp Hall.
Families will be able to use the restroom in Alumni Hall, but may not go inside other buildings including dorms, not even for a brief time.
You may bring homemade or take-out food to drop-off, but no eating will be permitted as it would require being unmasked.
If bringing food to share with other students, please only bring purchased, individually packaged packs (no home-made treats).
Please respect 6' spacing between your family and your own and other students, as well as faculty.
Visits should be reasonably limited in both time and frequency.
From College Counseling:
The College Financial Aid Presentation on Monday 28 September at 7pm is open to all parents in forms III-VI. It is led by Chad Spencer, Director of Financial Aid and Associate Director of Admission at Davidson College. Register here to receive the link to join us via Zoom.